Rajasthan Tourism 2016 Campaign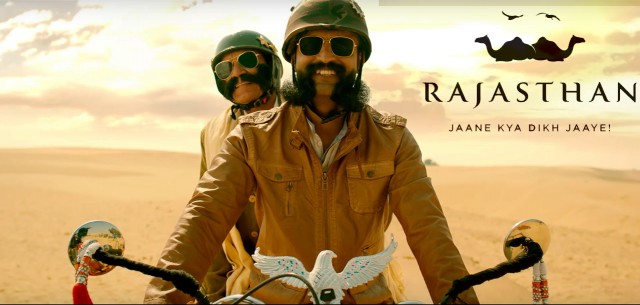 Rajasthan governement has rolled out a campaign "Jaane kya dikh jaaye", a campaign consists of six films, of which five are named after the protagonists who feature as tourists in the videos. The sixth film is a stop-motion animation on sand which reveals the new logo of Rajasthan Tourism.
Beautiful Palaces, Rolling Sand Dunes, Majestic forts, Stories of Hauntings, Hot Air Ballons make up the extremely beautiful treat called Rajasthan! One of the most beautiful states in India and one of the best state for tourism, Rajasthan has something for each and every visitor who comes here.

Video 1 : Sands of Thar unveiling Rajasthan Tourism Logo | Rajasthan Tourism
Rajasthan gets 1.5 million foreign tourists every year and these numbers are expected to double with the launch of this multi crore campaign by 2020.
Video 2 : Rajasthan through Meera's eyes – Meerasthan | Rajasthan Tourism | Adventure activities in Rajasthan
The campaign, which has been conceptualised by team Ogilvy and guided by Piyush Pandey, executive chairman and creative director, South Asia, Ogilvy & Mather, aims to change the way the state has always been perceived. The challenge was to attract the youth to a different Rajasthan, a destination for adventure seekers and explorers.
Video 3 : Rajasthan through Jane's eyes – Janesthan | Rajasthan Tourism | Garadia Mahadev Temple Kota
The first film depicts how Jane finds her Rajasthan, when a diversion on NH-76 leads her to a view of Garadia Mahadev in Kota. The second video titled Aryasthan shows how Arya finds his Rajasthan in the middle of the Thar desert.

Video 4 : Rajasthan Through Huan's eyes – Huansthan | Rajasthan Tourism | Kumbalgarh Fort
While the third film shows Binoy visit the mysterious deserted village of Kuldhara at night, the fourth film features Meera, who finds her Rajasthan amidst colourful hot air balloons in the clear blue sky. The fifth film is set in Kumbalgarh Fort where Huan finds her Rajasthan.

Video 5 : Rajasthan Through Arya's eyes – Aryasthan | Rajasthan Tourism | Thar Desert
The sixth and the last film introduces the revamped logo of Rajasthan Tourism. Created by Eeksaurus studios and directed by Suresh Eriyat, founder and creative director, Eeksaurus, the video is a stop-motion picture created on sand.

Video 6 : Rajasthan Through Binoy's eyes – Binoysthan | Rajasthan Tourism | Kuldhara Village near Jaisalmer
Despite some of the best tourist attractions, the state's lack of tourism marketing over the last quarter of a century as compared to its neighbouring states, has resulted in a sharp dip in the number of international tourists (its share has fallen from 33 per cent of international travellers to 20 per cent), as well as domestic tourists (the state gets half of Madhya Pradesh's 63 million domestic tourists). This is not only a missed opportunity in terms of attracting international tourists, but for economic growth as well.
Lyrics of Rajasthan Tourism Ad :

MAATI BAANDHE PAINJANEE,
BANGDI PEHNE BAADLI,
DEDO DEDO BAAVDO,
GHOD-MATHOD BAAVDI…
Rajasthan Touris ad meaning of the lyrics in English :

THE LAND IS WEARING ANKLETS,
THE SKY IS WEARING BANGLES,
THE CLOUDS IN A HAPPY FRENZY HAVE TAKEN DIFFERENT SHAPES,
THE BEAUTIFUL REVOLVING AND ROUND EARTH
Its a beautifull shot campaign. Rajasthan is one of my favourite tourism state and I always look forward to visiting this state. The state offers a vast diversity and beauty in terms of places to travel, food, culture, people and ofcourse history.The campaign will surely boost and promote tourism in the state and i especially look forward to more tourism activities in the state. Ogilvy & Mather and Piyush Pandey have done a great job with the 6 advertisements for the campaign. Great work !
For Travel and lifestyle related reviews or brand featues, pls get in touch Pushpendra@PushpendraGautam.in.