Stargazing in Indian Skies series- Spiti, Himachal Pradesh
I've always been very fascinated by stars and universe. Skies in cities hardly leave any options for us for Sky gazing. Clouds, pollution, weather and busy us. Everything adds up.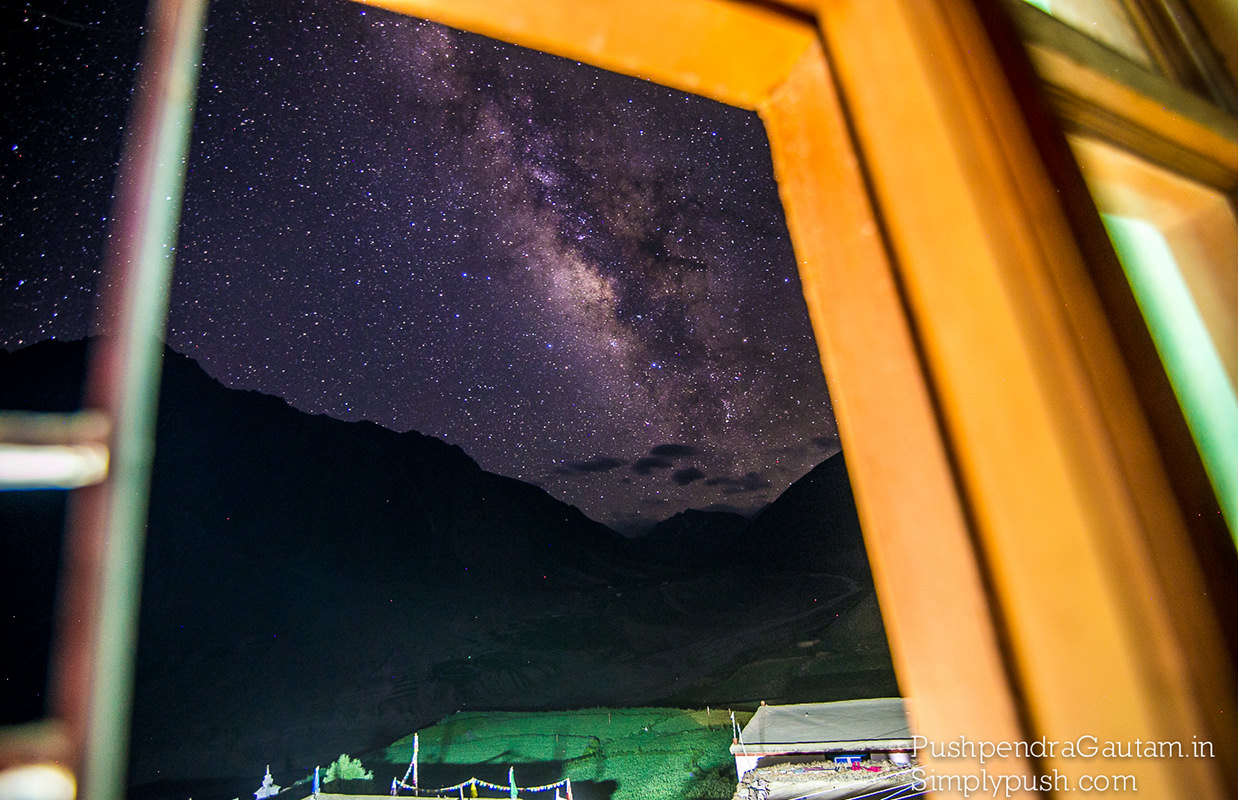 The night sky is disappearing before our eyes. The thousands of stars once visible to the naked eye are now obscured by the glare of industrial light and the haze of pollution.
Though most people will insist they have seen this dazzling spectacle, dark skies as nature intended them are rare. City dwellers, for example, usually glimpse fewer than 500 stars. In the most undisturbed areas, some 15,000 stars are on display as is the sprawling Milky Way. Stargazers under this kind of night sky might see 30 or more meteors per hour.
Recently I traveled to Spiti on a commissioned travel project from a magazine's side and had a wonderful experience and time stargazing and sleeping under the stars.
North India and its mountains have always been my favorite places and lots of best places to stargaze are in this part of the country.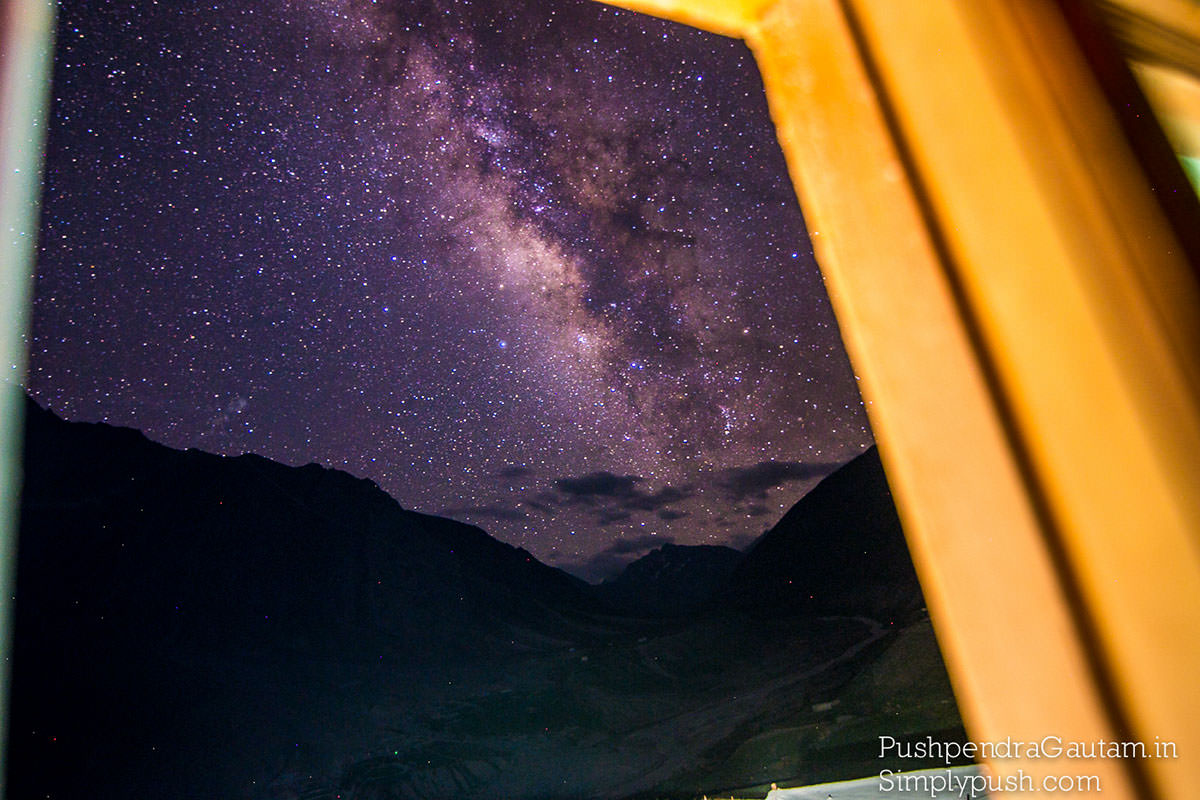 As a logic: Any place away from cities free from light, pollution, (dark skies and no electricity is more good) and dust pollution in atmosphere is good for star gazing. In high altitudes there is fog at night. That also create problem for observing too much humidity will deposit droplets of water on mirror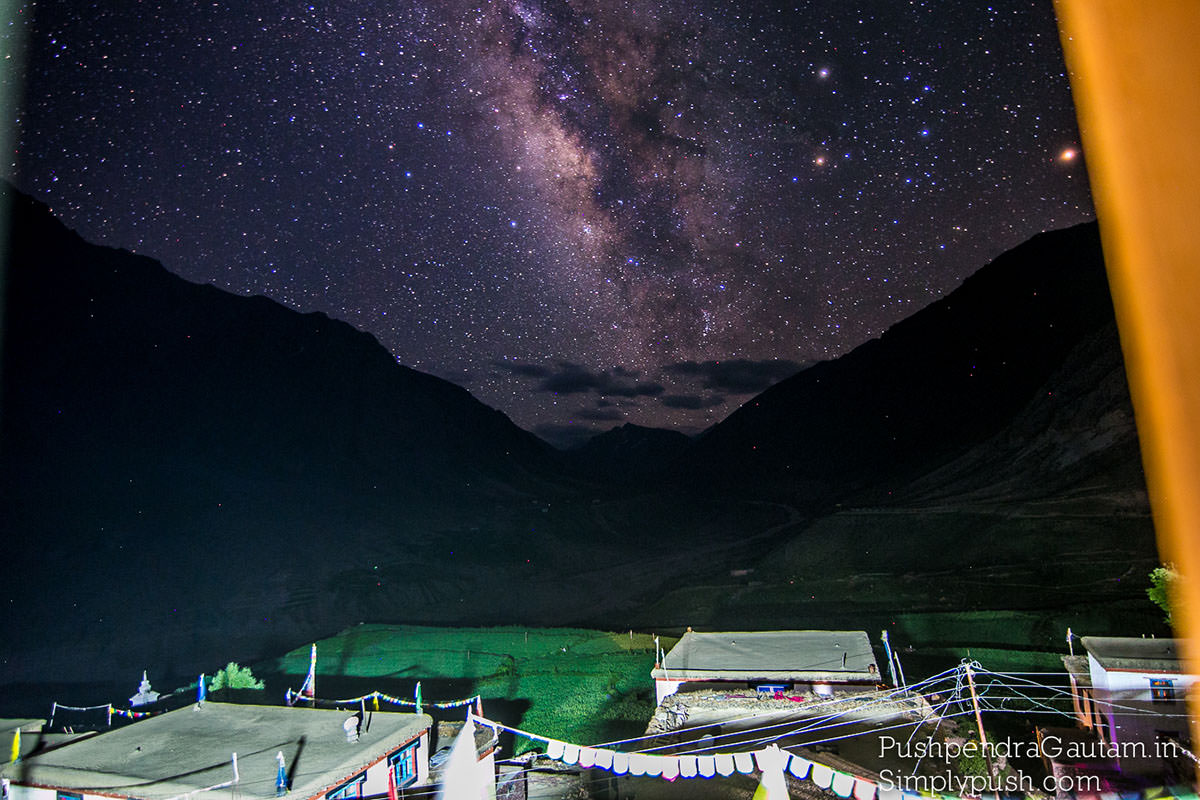 If you are smitten by the wide open night sky and you wish to explore these places, we will suggest you a list of places you can go to for star gazing with my recent pics from Spiti Trip on "Stargazing".
Jammu & Kashmir
Sarchu
Nubra Valley – Leh Ladakh
Sonmarg – Jammu & Kashmir
Pangong Tso – Leh, Ladakh
Shanti Stupa – Leh, Ladakh
Uttarakahand
Kuari Pass
Roopkund
Hatu Peak, Narkanda
Nainital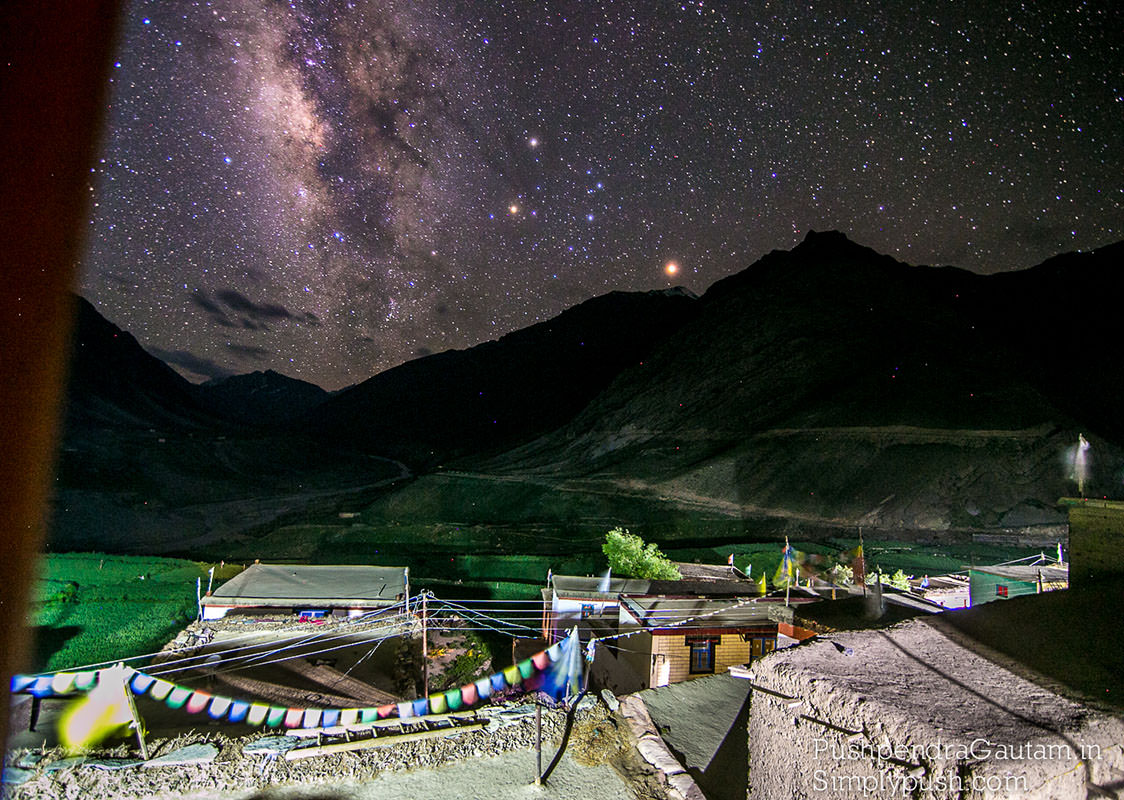 Himachal Pradesh
Hatu Peak
Spiti Valley
Chandaral Lake
Kaza
Lahaul Valley
Rajasthan
Jaisalmer
Bikaner
Maharashtra
Shahapur
Shirota
Matheran
Tadiandamol
Tarkarli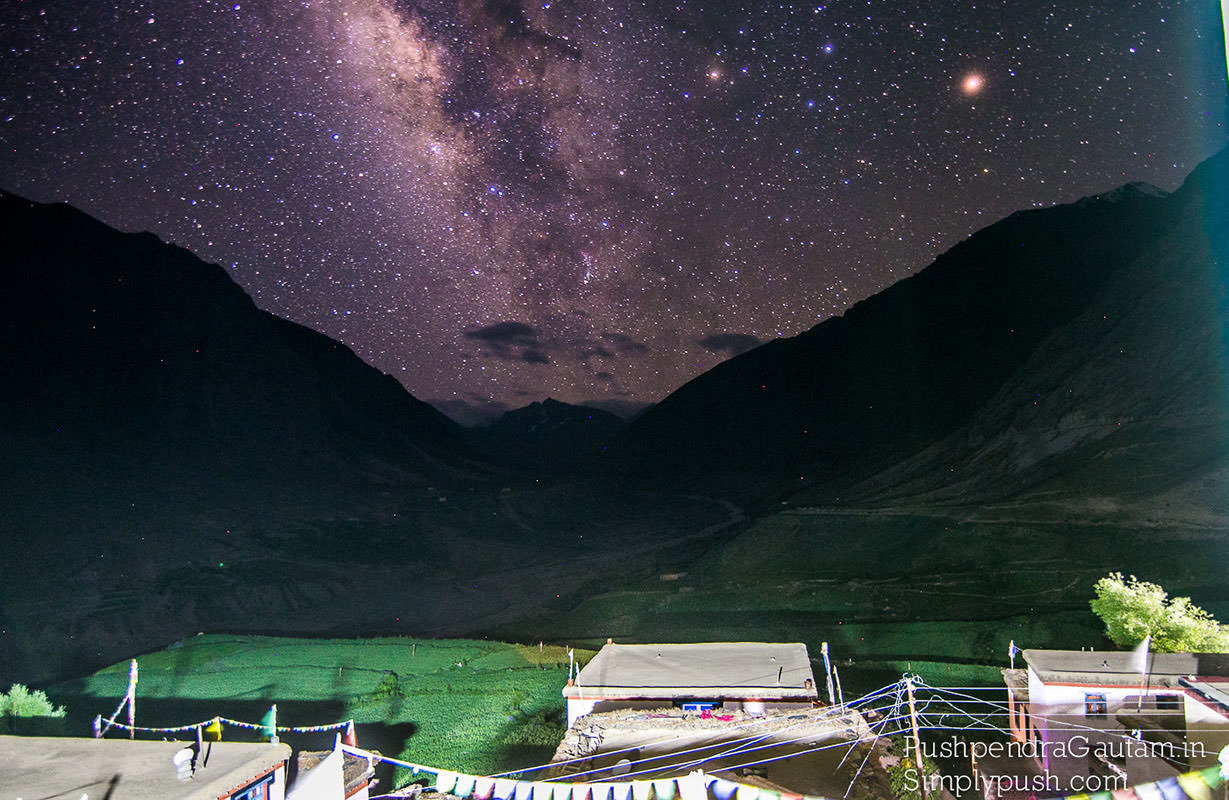 Gujarat
Rann of Kutch
Dasada
South India
Madikeri
Coorg – Karnataka
Yercaud, Tamil Nadu
Katao, Sikkim
Neil Island – Andaman & Nicobar
Mandarmani, Kolkata
Taregna, Bihar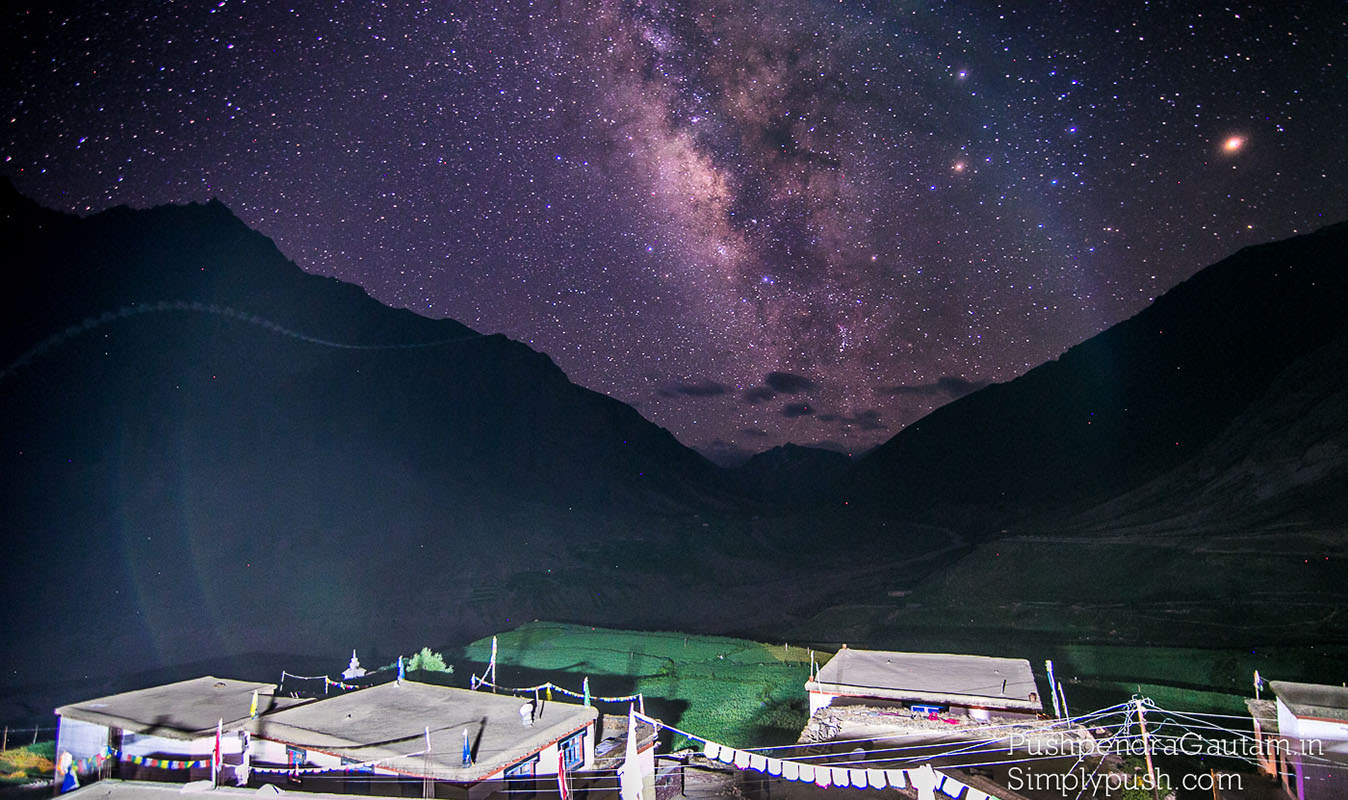 To help you plan your first stargaze night-out, here are a few simple tips
1. Watch the moon: Get familiar with the Lunar Calendar. New moon is the absolute best time to stargaze.
2. Weather: Preferably clear sky with minimal clouds and slow wind speed.
3. Where: Get as far away as possible from a city. Chase darkness.
4. Equipment: Carry light weight astro-telescope or DSLR camera with wide-angle lens.
5. Mobile App: Download Google Skymap App to locate stars, constellations, planets and pole star.
6. Travel accessories: Carry camp tents, torch and food for the night.
7. Research: Do your research on direction, movements of stars, planets, comets and moon.
Go, conquer the world. Life is meant to be lived. And come back and tell the world your fabulous stories.
Hope everyone loved this post. Please do comment if you have questions, suggestions or feedbacks.