Himalayan Lakes # Gurudongmar Lake
I have this fascination for blue lakes up high in the mountains. The landscape around them is always astonishing. Early morning reflection in the lake and the cool wind that blows late in the evening gives un-matched pleasure. I have previousl visited Chandrataal Lake and had also made a movie out of my experience while travelling to Spiti Valley .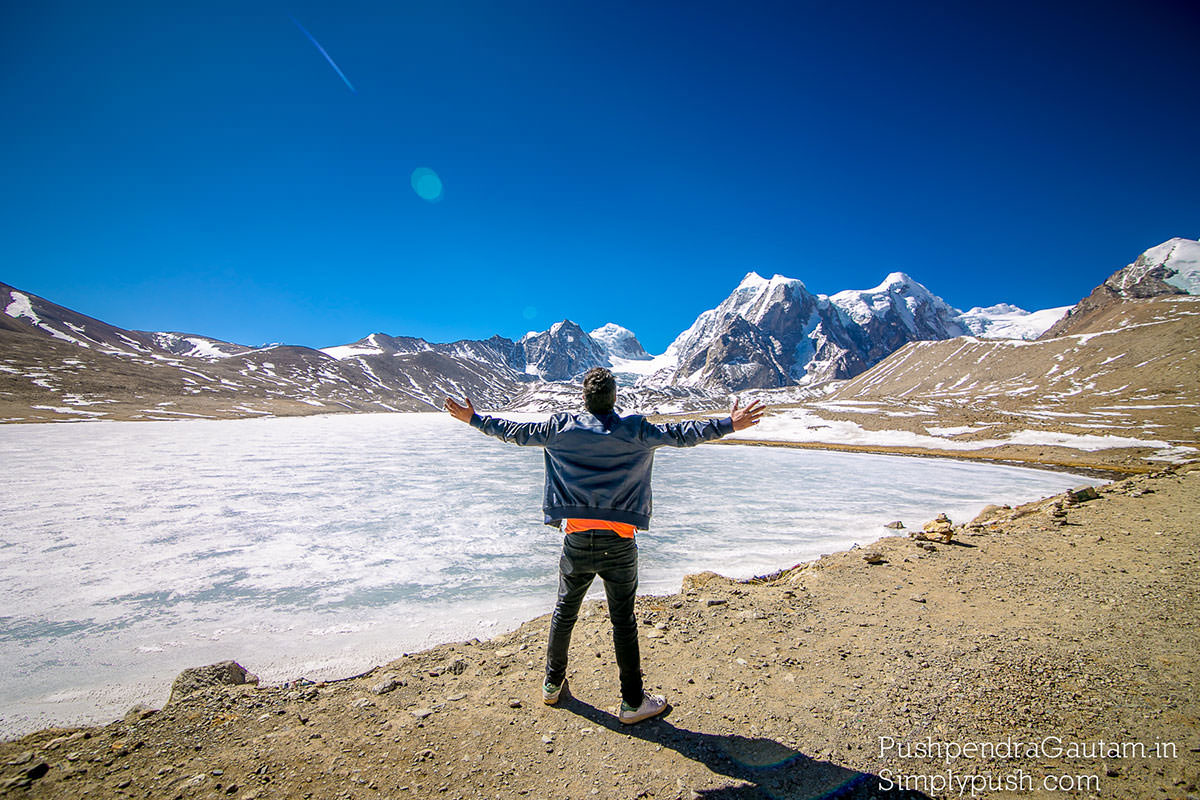 Feeling on Top of the World, GuruDongmar Lake, Sikkim
---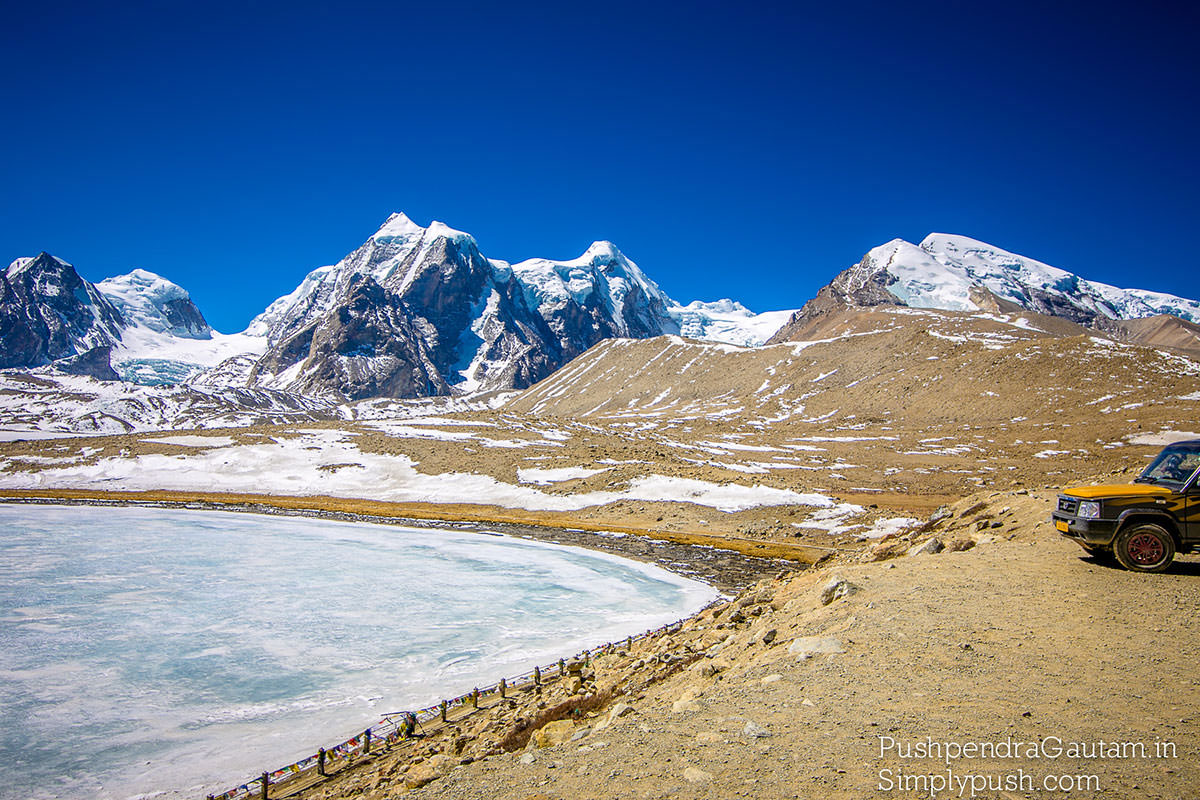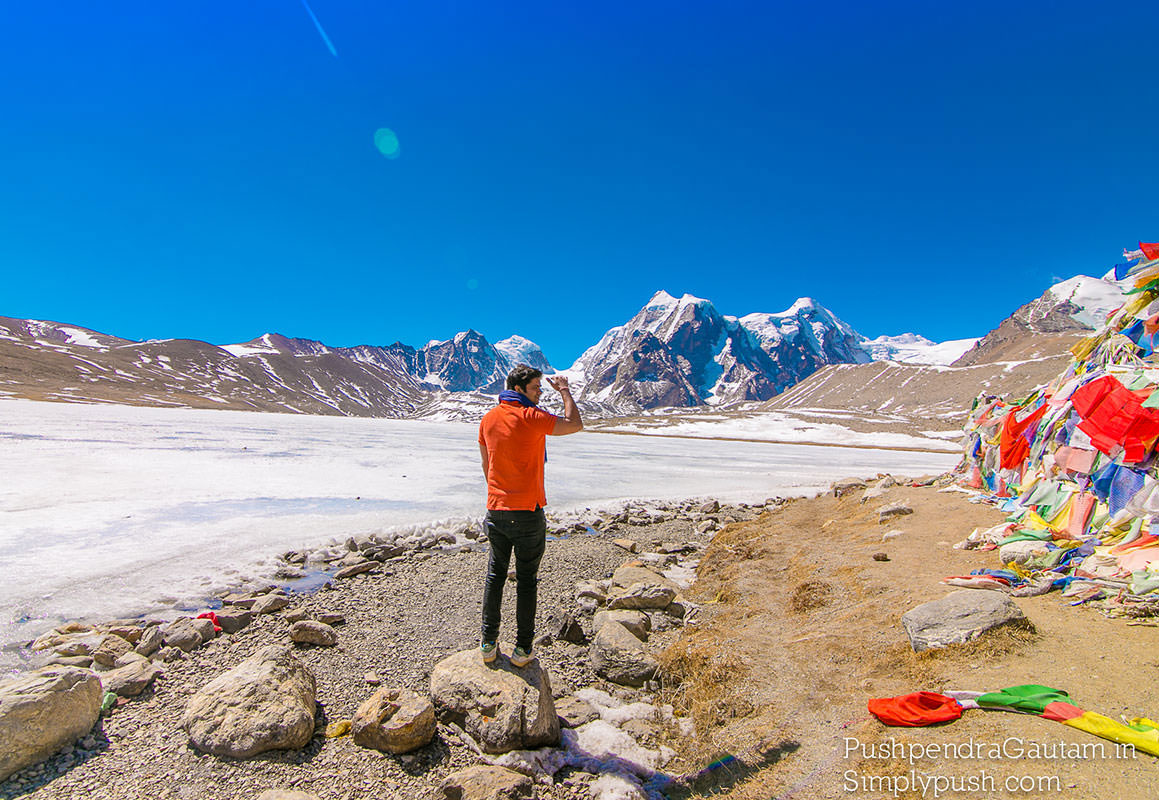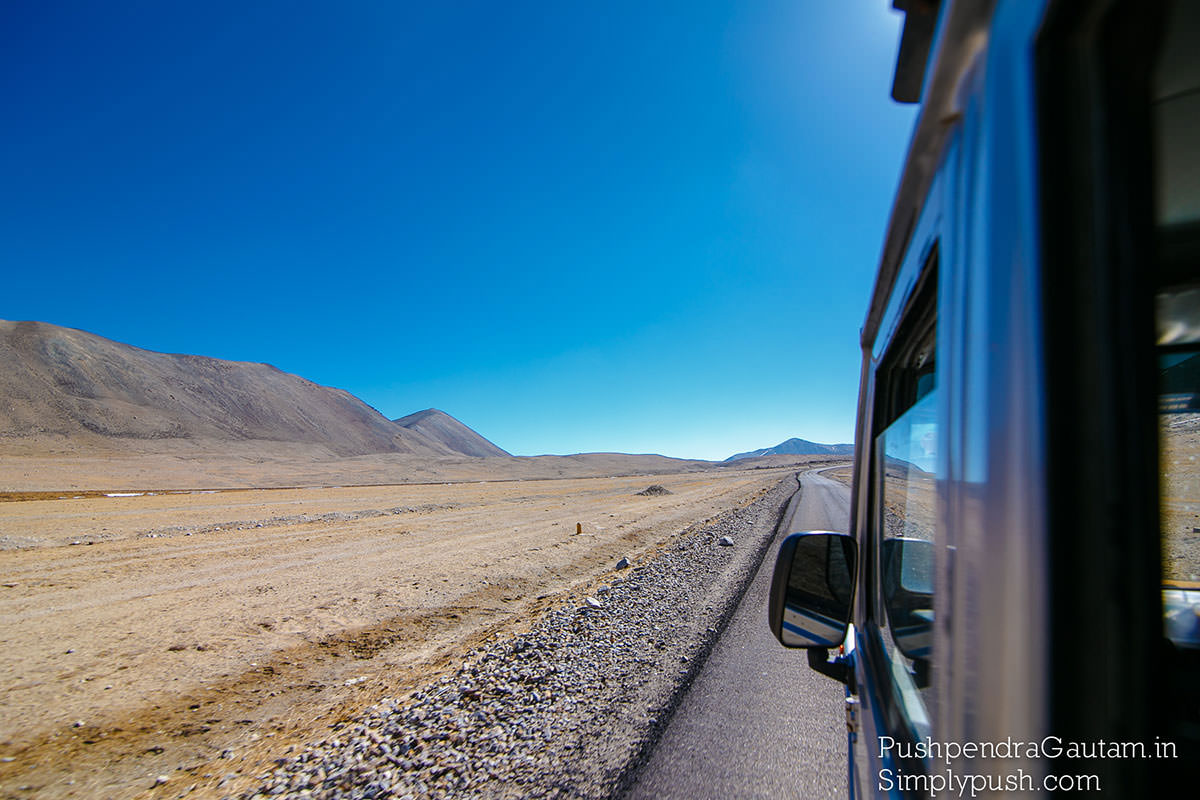 ---
Located in North East part of India, in the state of Sikkim, Gurudongmar Lake is one of the highest fresh water lakes in the world.
At 17,800 ft, It sources water to the river Teesta. The water of this lake is said to have curative properties. This lake is majestic emerald blue in colour and is surrounded by snow-capped mountains and a glacier with the same name.
The lake is named after Guru Padmasambhava (the founder of Tibetan Mahayana Buddhism) who had brought Buddhism to Tibet in the 8th century and who visited this lake during the 8th century AD on his way to Tibet. It is also said that Guru Nanak, the founder of Sikh religion, also visited this lake.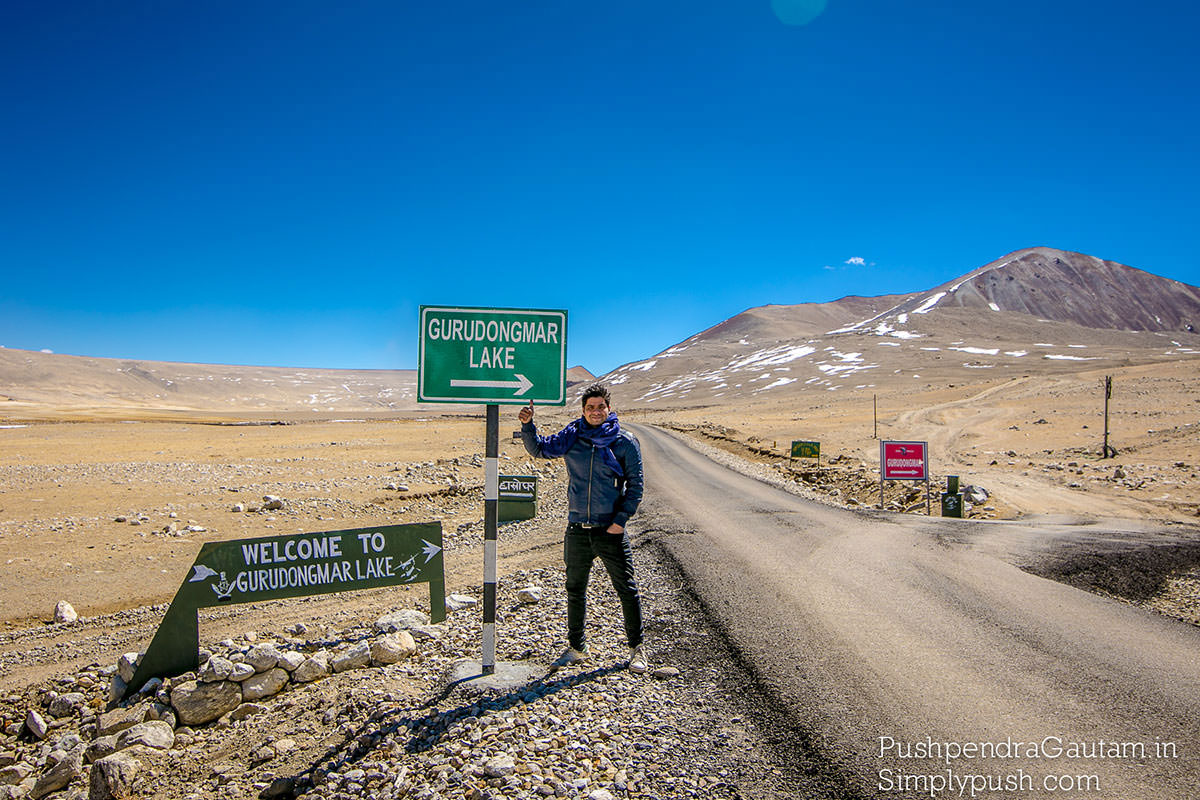 ---
A portion of the lake does not freeze during winter and the belief is that Guru Padmasambhava touched that part of the lake so that drinking water could be available to the local people throughout the year.
The lake is stunningly beautiful; it is out of the world. The entire landscape adds a mystic air to it. There is a small all faiths temple near the lake where you will find monks meditating, and is open for all. This beautiful place is like a piece of heaven on earth.
For us- The visit to this lake happened after a lot of planning and lot of persistence. The weather, the travel route along with less number of days planned for the trip made it difficult but luckily we were able to visit the lake and visiting this place has been one of the most amazing moment of my travel life.
The closest tourist accommodation can be found at Lachen which is around 3 hours distance away from the lake. One can reach Lachen via Gangtok. It will take around 6 hours to reach Lachen from Gangtok. The closest railhead is NJP and the nearest airport is Bagdogra near Siliguri. There are special permits required to enter North Sikkim, the tourist operators can help with the permits.
The nearest tourist accommodation at Lachen is 68 km (3 hours) away. A typical trip starts at Gangtok from where Lachen is about 120 kms (6-8 hours). After overnight stay at Lachen next morning you may visit Gurudongmar lake. You should start early in the morning and be back to Lachen latest by lunch time. As the day progresses weather in the high altitude begins to worsens.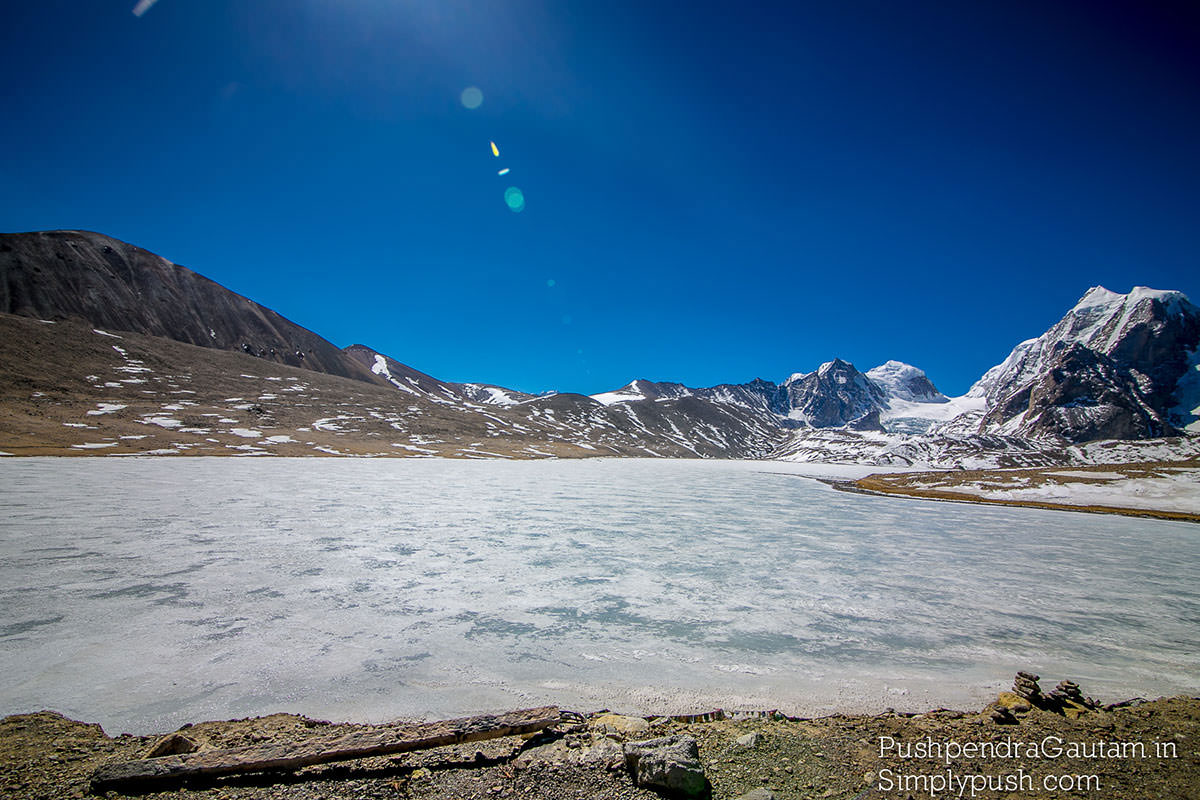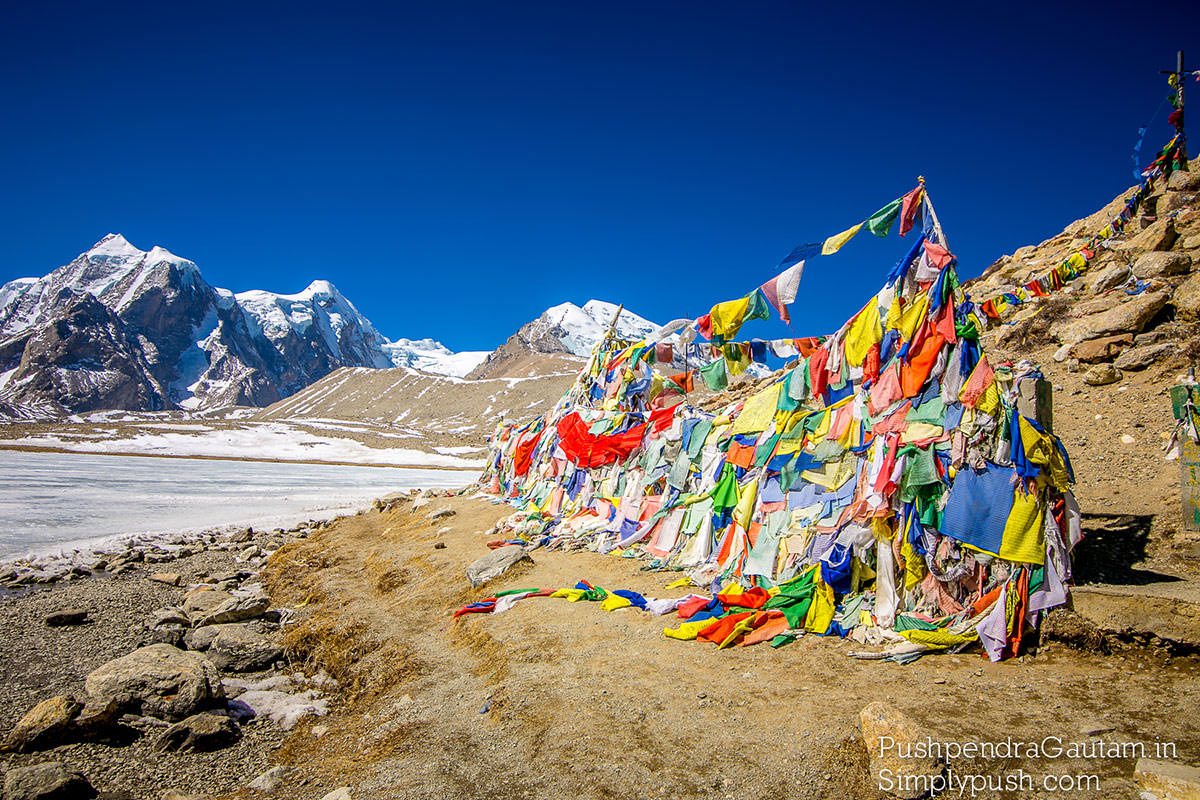 There are 2 common Itiniaries to visit Gurudongmar lake from Gangtok.
1. Two-Days & One Night


Day 1. Gangtok- Chungthang- Lachung (Stay overnight at Lachung)
Day 2. Lachung- Yumthang Valley – Gangtok (can also visit Zero Point)

2. Three Days & Two Nights
Day 1. Gangtok- Chungthang- Lachen (Stay overnight at Lachen)
Lachen from Gangtok is only 121kms, it can easily take 6 to 7 hours to reach the place by car depending on road conditions. Many tourists also come here after having visited Lachung and Yumthang Valley. Lachung to Lachen takes about 2 hours by car.
Day 2. Lachen- Chopta Valley- Gurudongmar Lake-Lachung (Stay overnight at Lachung)
Day 3. Lachung- Yumthang Valley – Zero point – Gangtok
There is no proper tourist accommodation beyond Lachen. So almost all tourists visiting Gurudongmar Lake stay at Lachen overnight before proceeding to the lake next morning. And along with the lake, a typical tour also combines a visit to Chopta Valley, a beautiful valley located in-between Lachen and Gurudongmar which gets covered with flowers in spring and with snow during winter.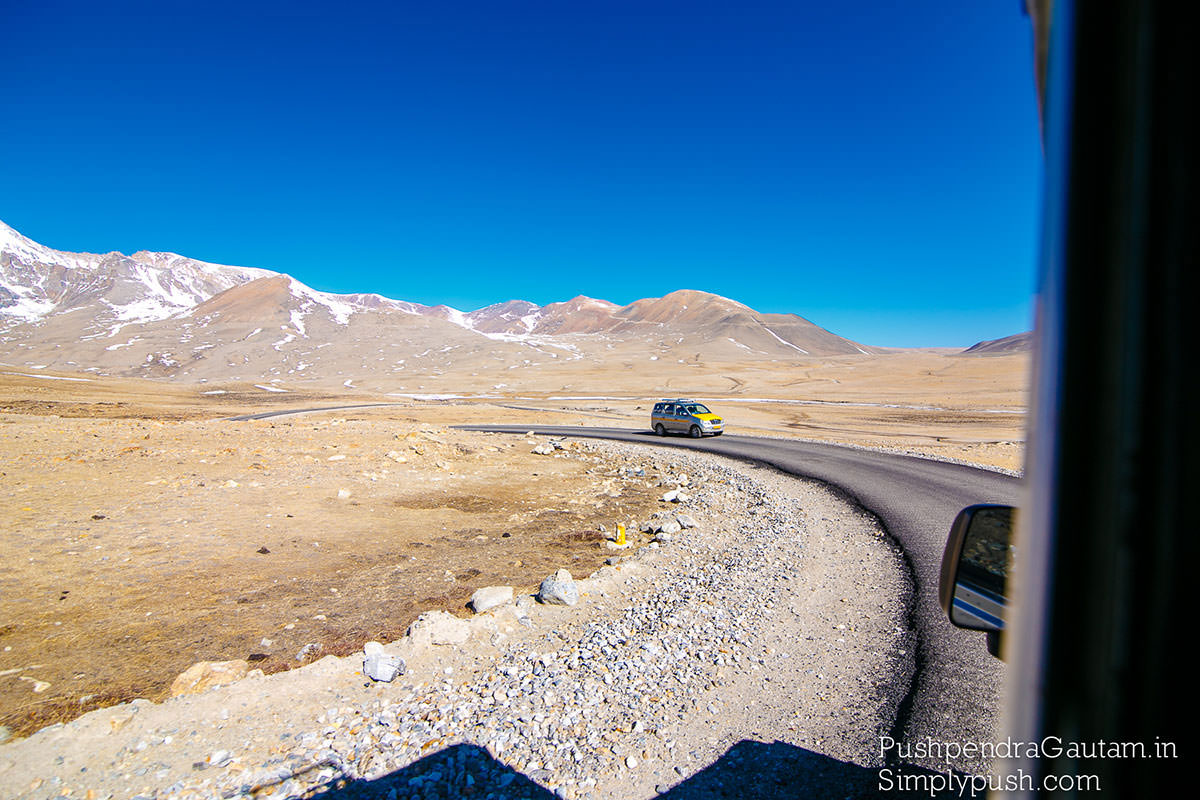 ---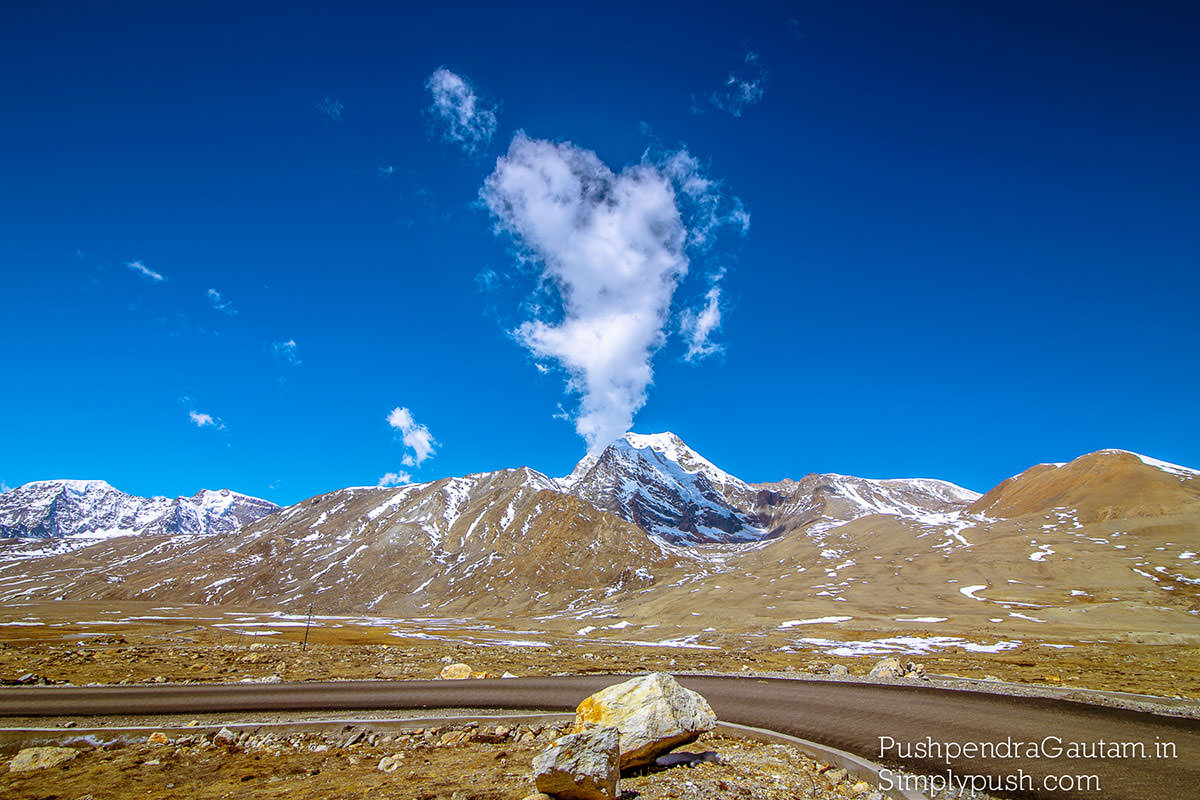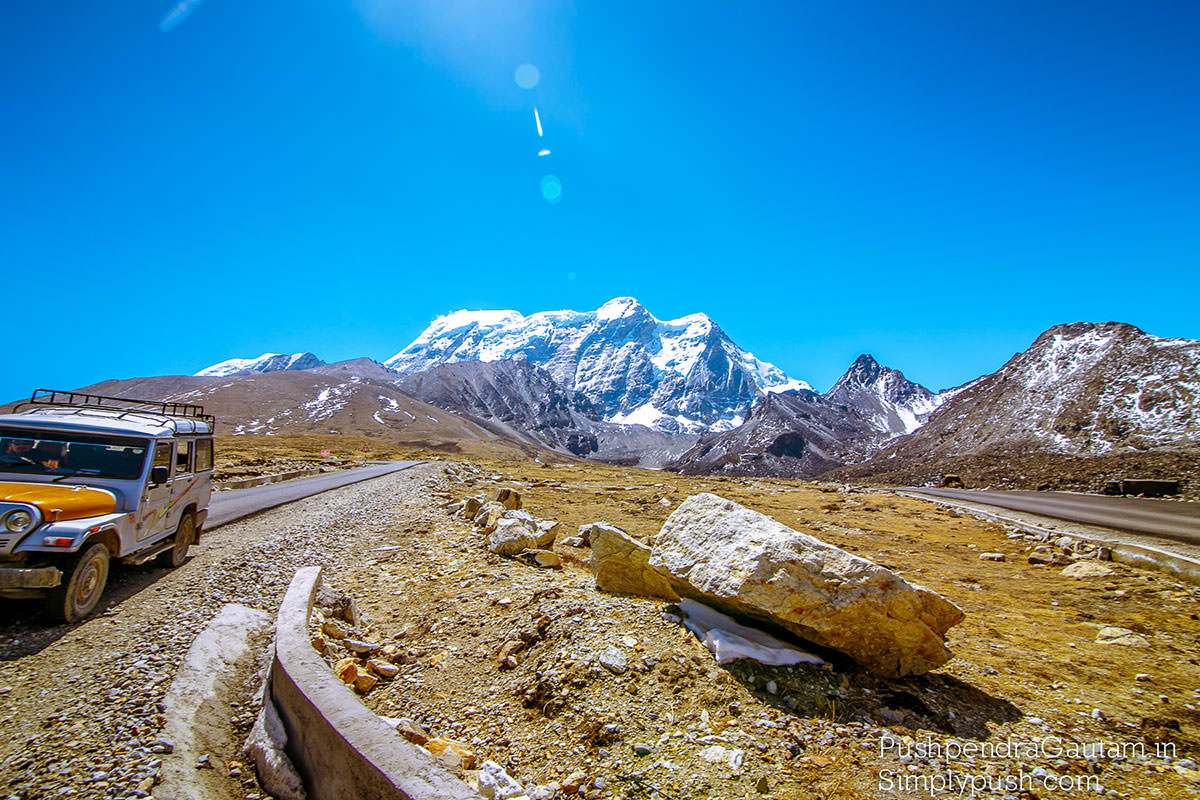 ---
Permits
1. Because of close proximity to China and Tibet Border, Inner Line Permits are required to visit North Sikkim. Indians are allowed to visit Gurudongmar Lake while foreigners are restricted till Chopta Valley and Yumthang Valley.
2. Permit needs to be obtained in Gangtok, before a day of starting the journey. Plan your journey in advance as permits are specific to the traveller, number of days and vehicle.
3. For obtaining permit, you need to submit copies of your photo ID and two recent photographs in tourism office. This, you can submit in any authorized tour agency and they will get your work done.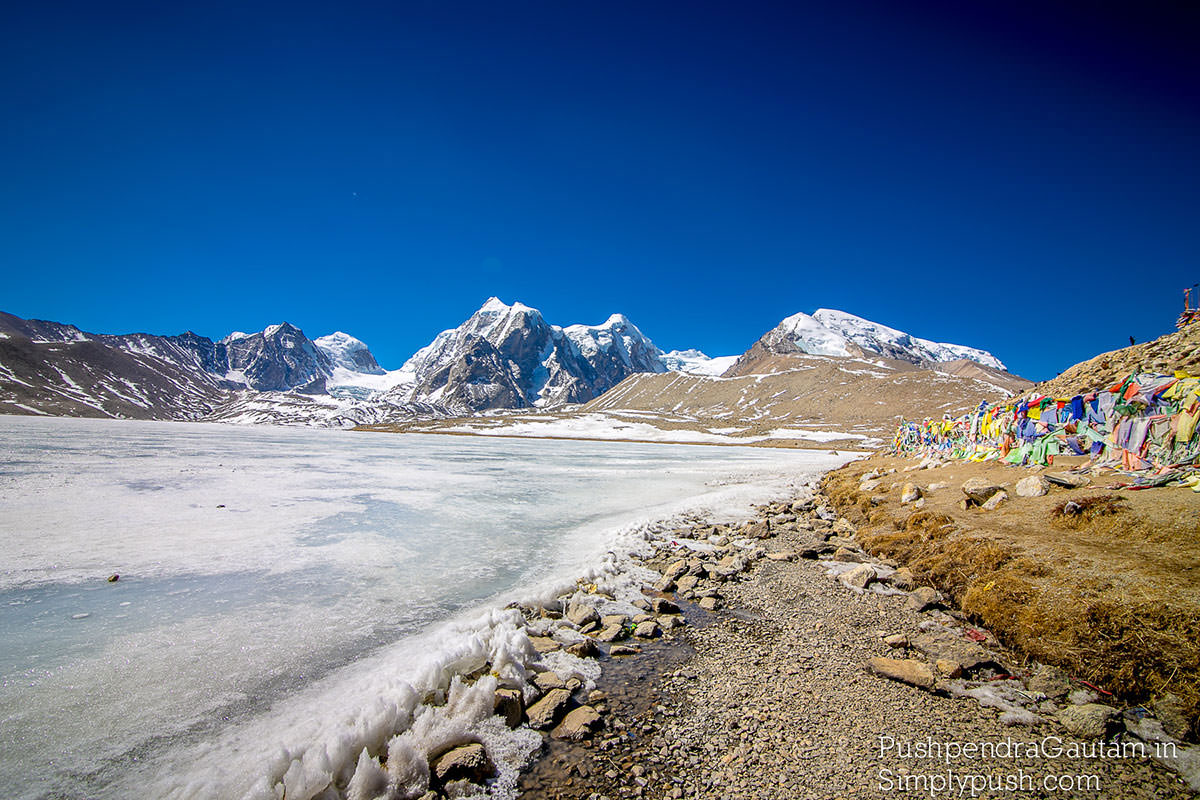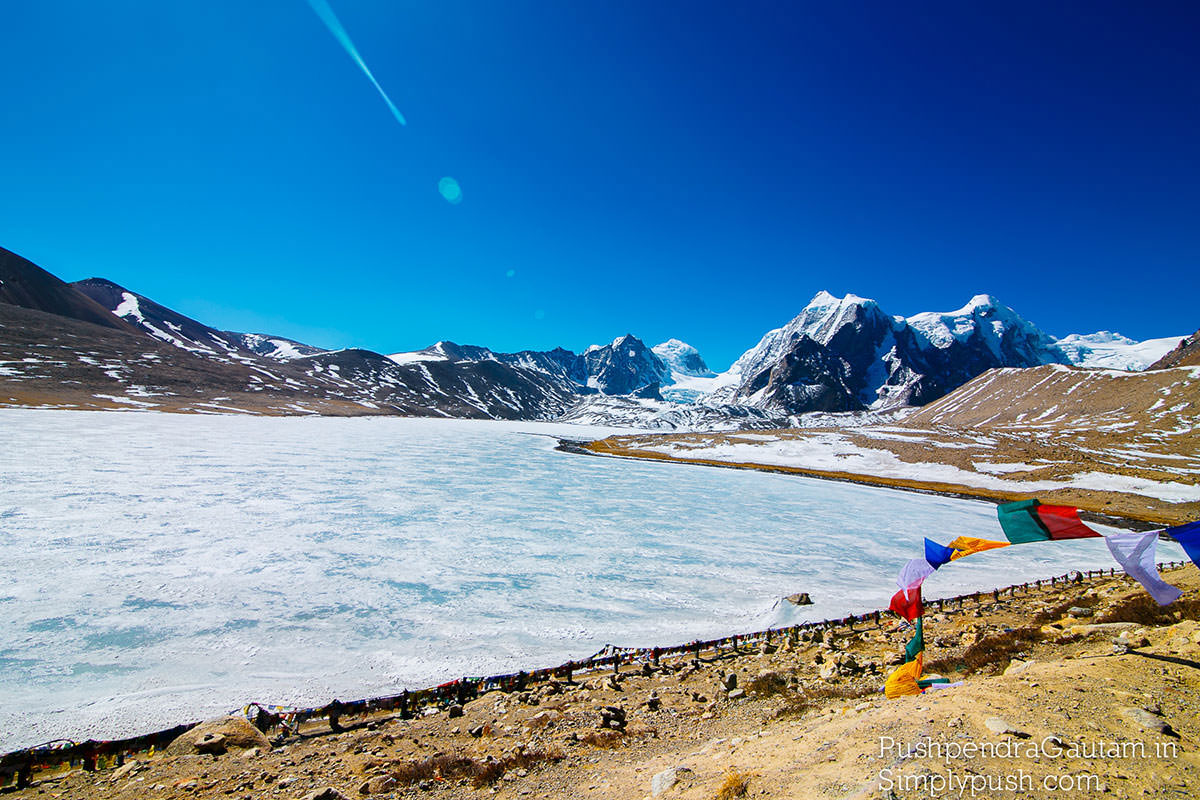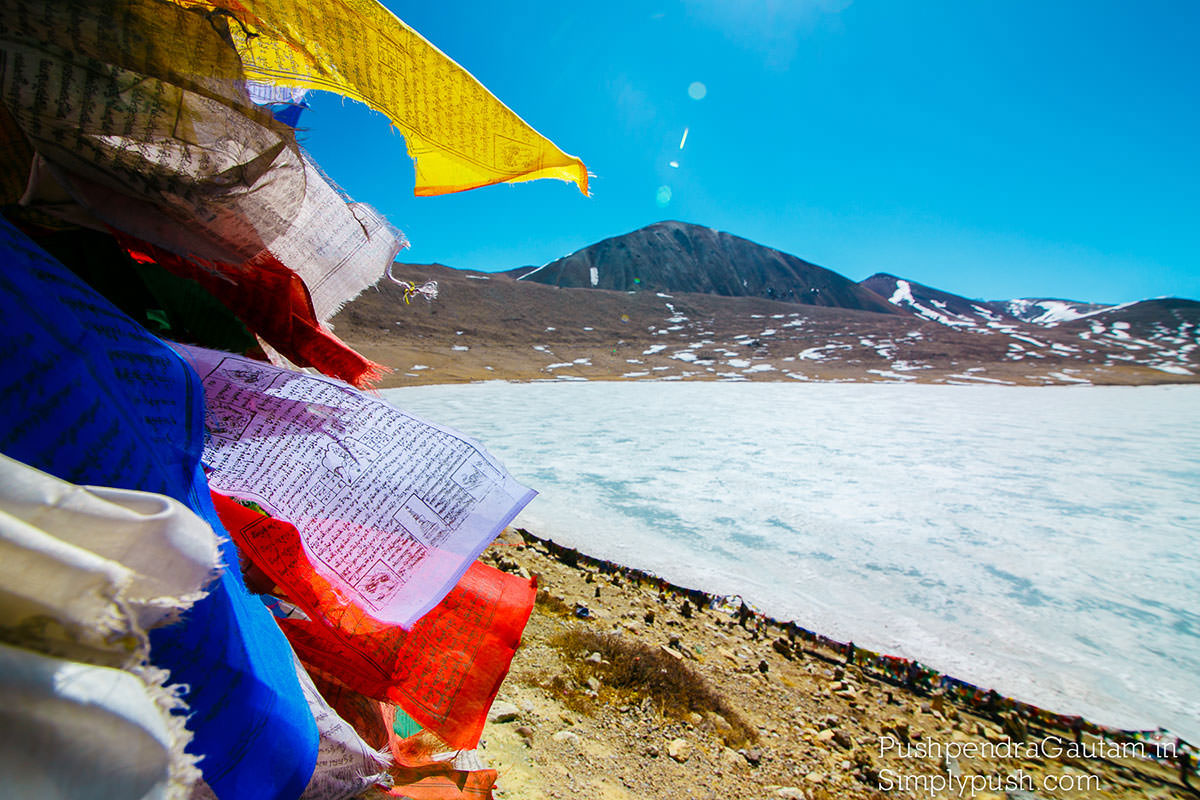 Buddhist prayer flags on the sides of Gurudongmar Lake, Sikkim
---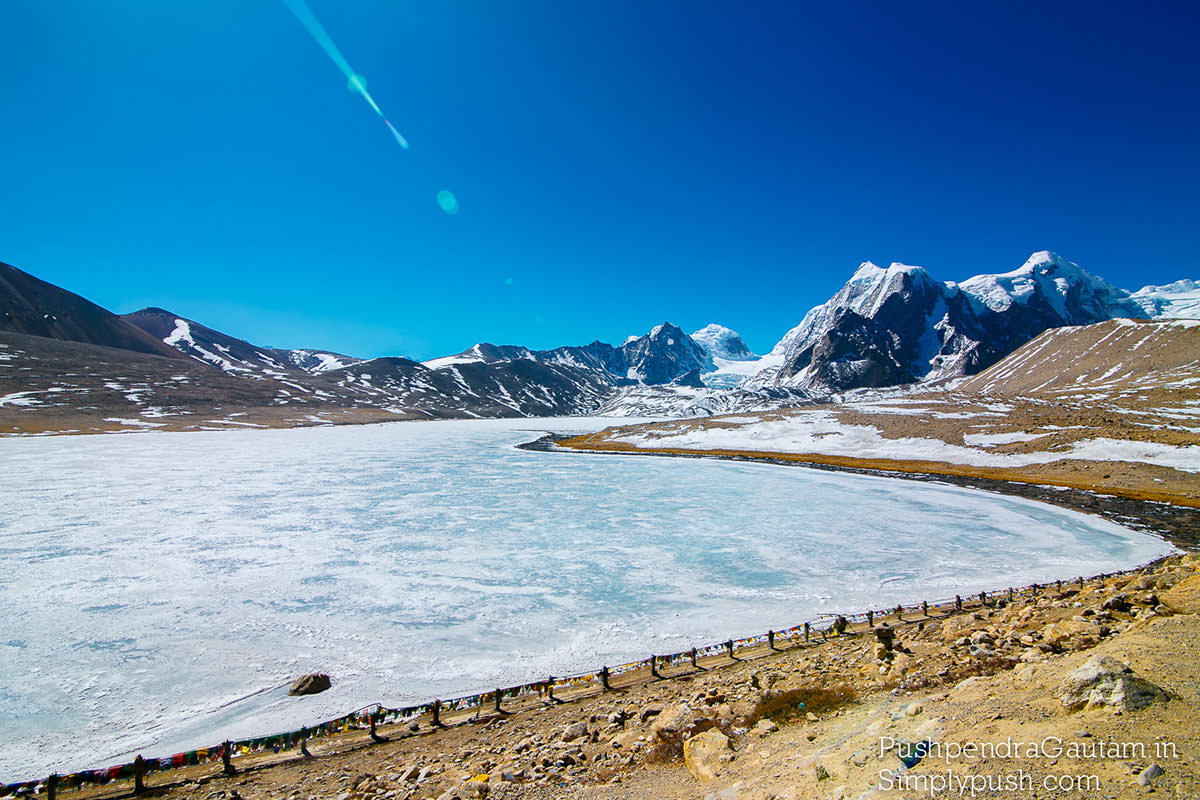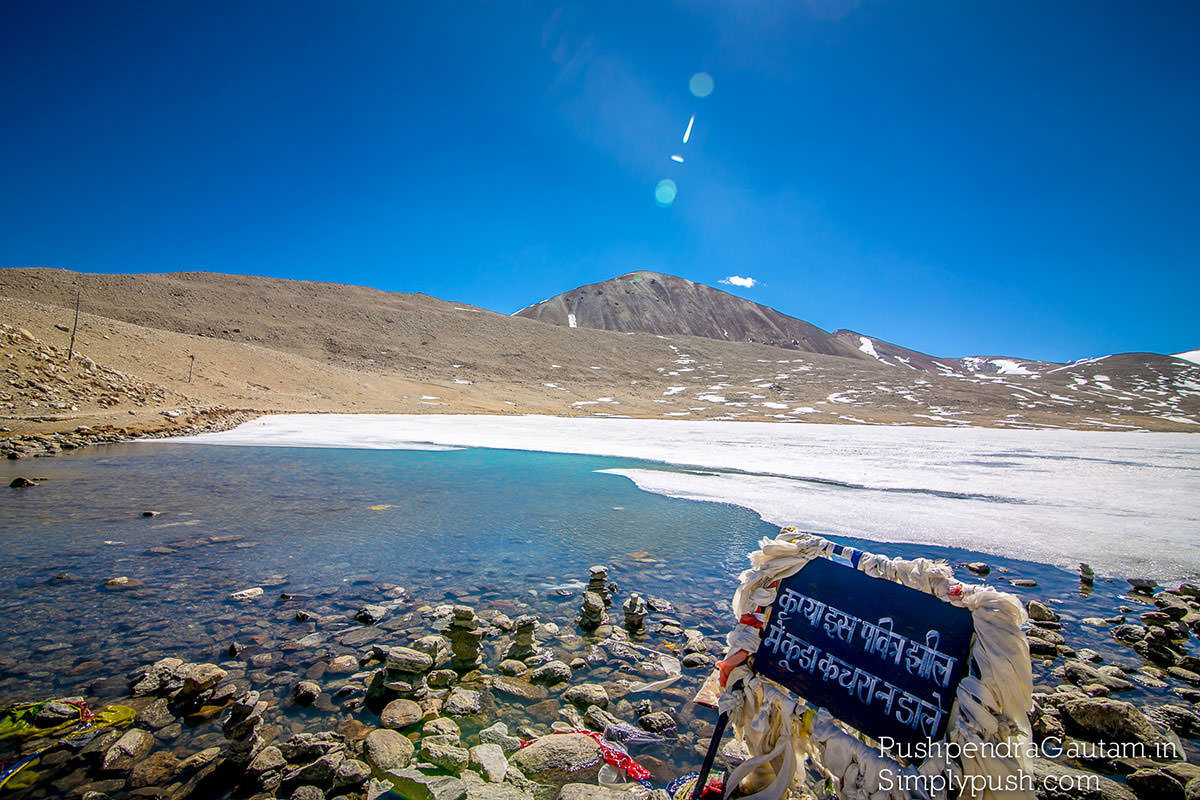 ---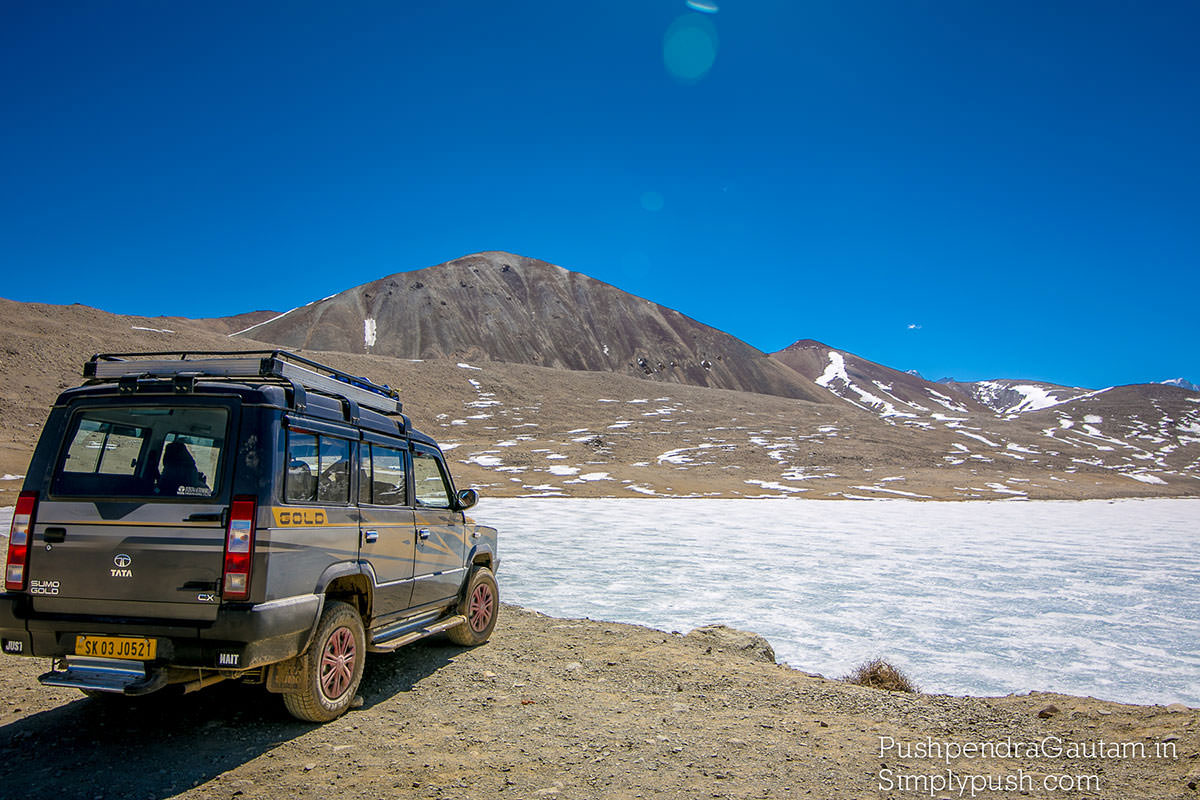 Travel Map to help you plan better.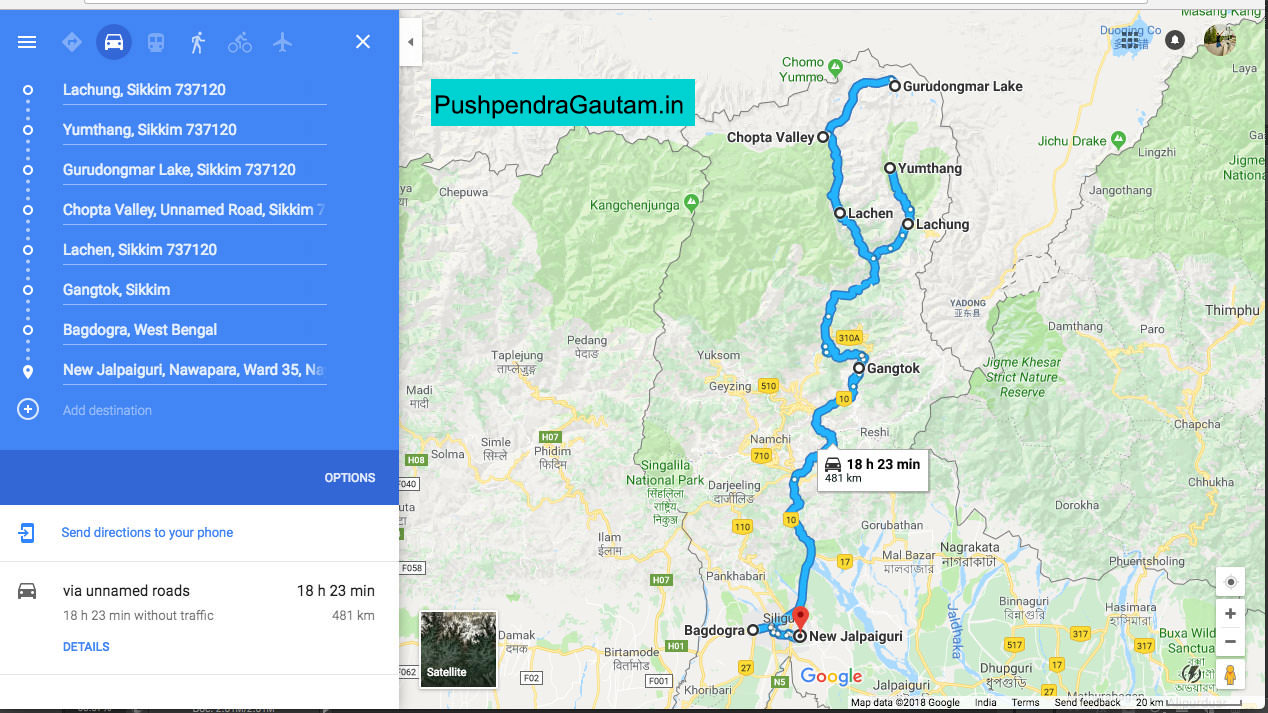 Most importantly, don't try to do too much in too little time. Sikkim is not a place that you see in a hurry. So have you been on North Sikkim ?
And tell me more about your experiences in the comments below !
---
For more travel inspiration, join my journey on Facebook,Instagram and Twitter. and subscribe to my Newsletter .
---
Also see : How to plan a trip to Leh-Ladakh
Also see : How to Plan a Trip to Chandrataal Lake
Share the wanderlust